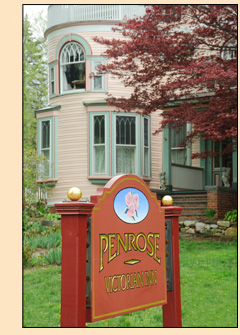 is located in the scenic Pioneer Valley, minutes west of Northampton Massachusetts. The village of Haydenville is at the foot of the Hampshire Hilltowns; gateway to the Berkshires of Western Massachusetts. Penrose Bed & Breakfast Inn is known for Victorian elegance, and was selected for a national Christmas television special with the Mark Twain House. Locals refer to the Inn as "The Painted Lady".

who had the Victorian vision to lift up the entire house to create first floor accommodations with high, stately ceilings in 1900. Showered in Victorian details and carefully chosen paintings and antique pieces, the parlor's elegance remains the same as it did back then. The magnificent fireplace is set off by tall Corinthian columns featuring ornate ram's head capitals.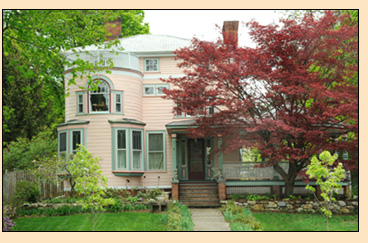 have created a splendid lodging environment. They have provided positive lodging experiences to hundreds of happy customers. Visitors to the Inn partake in a unique Bed and Breakfast experience within the elegance of a Victorian Inn setting. The attention to Victorian detail is evident from the moment you walk through the door until you lay your head down for a restful sleep in a richly appointed Victorian era guest room.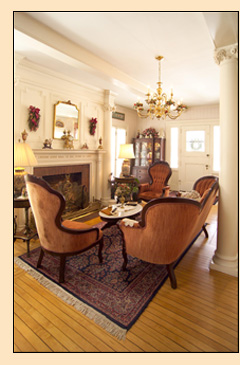 from three authentically decorated Victorian Era rooms. Highspeed wireless internet available throughout the inn. Each spacious room comes with a large private Victorian accented bathroom. The Penrose Bed & Breakfast Inn has a colorful fountain garden, antiques through out, 7 fireplaces, rare chandeliers, lamps and welcoming candles in all the windows. Play croquet, swim, read on the gazebo front porch, relax in the hammock, or stroll along the perennial gardens.

the Berkshires, Northampton, Amherst, Tanglewood. Penrose Inn provides bed & breakfast lodging accommodation alternatives for visitors to the 5 College Area as well as visitors that seek day trips to Tanglewood, Lenox Massachusetts, and Mass MOCA. Local Universities & Colleges Include: Smith College, Hampshire College, Amherst College, University of Massachusetts (UMASS, Amherst), and Mount Holyoke College. Visitors to the Penrose Bed and Breakfast Inn receive the best of both worlds - the charm of a rural area in the context of a culturally rich environment.
Directions to Penrose ~ Penrose B&B Inn Site Map ~ Bed & Breakfast Credentials